Summers are the hottest time of the year and in an already hot climate such as the one in India, women will need all the help they can get to beat the heat and stay refreshed all day long. This may seem like an impossible task given the situation, but you will find that if you stick to the basics you will find yourself in a better situation, the first rule is to use aerated materials, here the world of wholesale cotton dress materials is your playground and they are accessible to you, secondly try to stick to light pastel colors unless you do not expect to wear the clothing for a long amount of time.
The entire world does not just love this material for nothing and there are several properties that  have led to its global fame. Regarding India, there are many reasons that make cotton a must-wear material for hot climates is that it keeps your body cool by allowing air circulation in and out of the fabric. The light colors it comes in also do not absorb too much light and actually act as a reflective surface that keeps half the heat out. 
Laundry will be easier with these because they dry fast and there will not be any chance of dye leaking out and spoiling your other clothes (everyone has experienced this at least once). The best property is that they are the most affordable fabric type in the country.
Printed cotton suit:
As the most popular style of salwar suits, the demand for them is enormous and manufacturers have to pump out larger quantities to cater to this requirement. They are so famous because they look attractive on their own and no need to put in extra time and effort to accessorize your look to make it better. 
This type of suit is best for busy women who are always on the go and can be office wear, casual wear, and for college girls. The material is put through a machine and undergoes a digital printing to place the design perfectly onto the surface.
Dhoti style suit: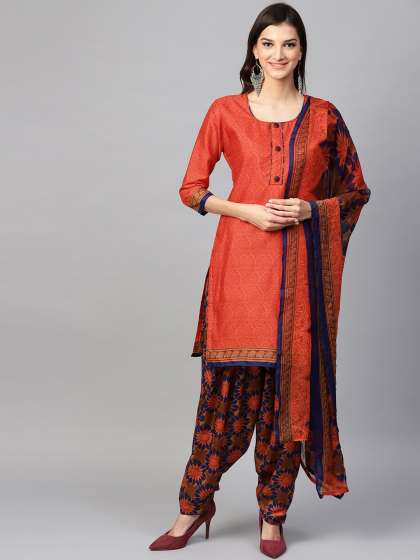 If you are a fashionista and both style and comfort are at the top of your list, you should look into the 'dhoti style' salwar suit as it will provide you with an eye-catching look while still allowing you to feel completely comfortable. 
The main feature of this outfit is the baggy pleated pants that are likened to a dhoti. The salwar top is usually shorter than the other conventional ones and can bear any decoration that tickles your fancy. Together the garment is perfectly balanced to create an all-rounded look.
Pink cotton suit with pants:
Of course, every woman's wardrobe cannot be complete without at least one (or more) pink outfit. That said this next one shows off a woman's feminism and grace by sticking to girl power rules. Pink is a color that will look good on any girl, especially with a simple pattern in gold and the presence of tassels to enhance the visual attraction. Paired with cotton pants, you are guaranteed to look and feel cool.
Designer cotton suit:
Attending a party but it is an outdoor event? Designer suits cater to this and can make you look like a superstar with their unique styles and cuts that are made to garner the maximum amount of attention to the wearer. 
They have fancy designs such as sequins, lace and designer necklines that are customizable according to what you think suits you better and will make you stand out more. In terms of colors, neutral colors are the new craze in town. Narrow pants or a lehenga are the suitable pairings.
Plain maroon cotton suit: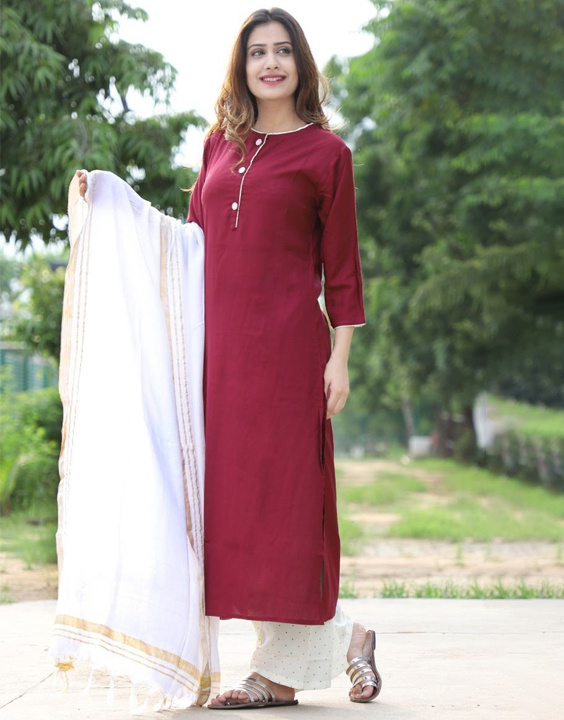 Sometimes if you are not required to go out and it is just a stay at home day, and you want something with maximum comfort, you can always opt for the simplest plain salwar suit that will be keen to feel homely. Although the color may seem dark and uninviting it is actually very breezy if you do not intend to do heavy-duty work, the very long length can compliment taller figures but shorter variants are also available in the market. Pair it with neutral-colored palazzo pants to maximize your cooling look.
Churidar suit: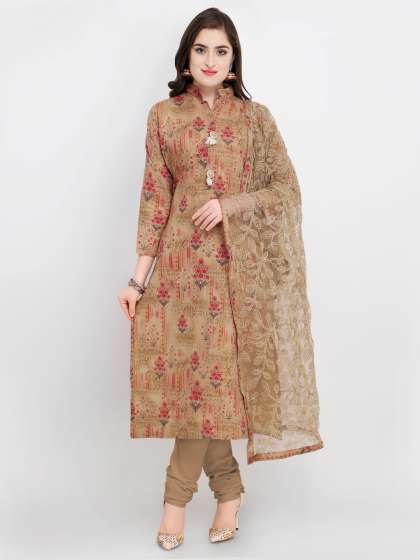 Churidar suits are designed around the cotton pants that are known to gather at the bottom by the ankle. Usually, they are teamed up with a straight cut salwar tunic that can be decorated with embroidery, beading work, or digital print.
They are suitable for women of all ages and body types as it enhances your looks and can be known to hide all your unwanted curves beneath the material. The look we have put here is a beige/brown textured cotton suit with pink accents and a decorated dupatta to add to the overall look.
7.Chanderi cotton suit:
Chanderi is a special technique employed to make lavish garments. It involves the production of a hybrid or mixture of materials by the highly skilled weaving of silk threads into a cotton weave to give a slight glimmering appearance to the overall material itself. They can consist of two colors or focus on a single color instead if you are not interested in dual-colored outfits. 
Pairing them up with gold accessories is usually a good idea as it blends in well with the other gold decorative borders such as Zari. The dupattas act as a break in shades and can even be multi-colored such as the one we have chosen. Do not forget to put on your favorite shoes, jewellery accessories and of course a bit of makeup to highlight your face.
Together all the above types of salwar suits provide a list of what every woman should have in her wardrobe to prepare her for the hot summer ahead. Each one can be worn for a specific day or event which the design suits the most.