The Electric Scooter in 2021
Electric Scooters are a popular mode of urban transport in many cities around the world, especially San Franciso, Madrid and Paris.
They are only set to become more popular as more people learn about their many benefits and more manufacturers enter the marketplace.
Note: One of the main reasons why the scooters have not yet become highly popular across UK cities like London, Leeds and Manchester is because in the United Kingdom they need to be registered, taxed and insurance before they can be legally used on public roads.
However, the good news is that the government in the UK are currently considering reclassifying electric scooter so they can be used on public roads without motor tax and insurance.
Here are 5 benefits of the humble electric scooter:
#1 Portability
When it comes to portability, electric scooters are only beaten by folding e-bikes in the world of powered personal transport.
A lot of people would love to use some form of personal powered transport to get around, but many of the products currently available are too technical for everyday practicality.
Motorbikes, for instance, require a license and insurance.
Powered pushbikes are a great option for many, but as they have to be left outside for charging, they are often stolen.
Best Electric Scooters Online Ireland 2020
Electric scooters, meanwhile, are super light and fold up into a small footprint for the ultmate in portability.
You can pull a folded scooter around the same way you would a small wheeled suitcase. Then, when you want to use the scooter, all you need to do is unfold it — no complex assembly procedure is required.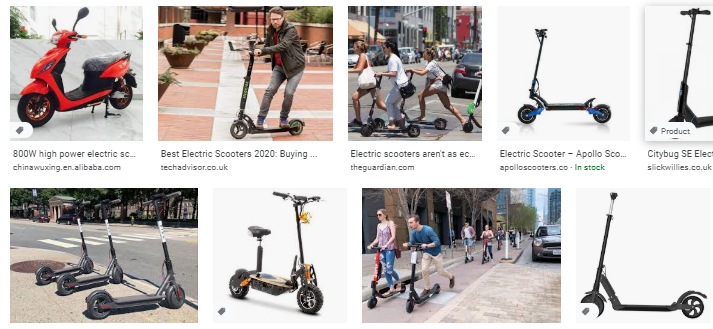 #2 Silent Transportation
Many modes of transport are incredibly noisy due to onboard combustion engines.
In contrast, electric scooters are virtually silent. The only noise you will help is the tyre noise on the road.
Arriving home late at night or leaving for work super early in the morning can be done without waking up the whole street.
#3 Eco-friendly
One of the biggest selling points of the electric scooter is that they don't produce any carbon pollution.
As a consequence, they are one of the most environmentally-friendly methods of transport around. Zero emissions also means they don't produce any air pollution that can cause respiratory problems for pedestrians.
They really are a great product for getting around in urban areas in a reliable, eco-friendly way.
#4 More Movement
Many of us are living lifestyles that are becoming more and more sedentary in nature.
We often spend a long periods of time each day seated on a train, bus or car during our commute. An electric scooter gives you the opportunity to get your body moving during your daily commute.
While it certainly won't replace a gym workout, riding an e-scooter can improve your balance and core body strength. It also burns more calories than sitting in your car.
#5 Better Safety
All modes of transport have some risk factors. Any time you are travelling faster than around 5mph, your risk of being involved in an accident rises.
That said, comparing to other modes of personal transport like roller skating, cycling, or skateboarding, electric scooters are safer.
For starters, if an imminent collision is about to occur, you can simply jump off — something you can't do on a bike or roller skates.
Featured above are five of the many benefits of the electric scooter. There are models from many different companies for sale online, so it's important to compare technical specifications carefully.
Top models now have ranges exceeding 50 miles and top speeds of 25mph. There are also lots of entry-level models available that are incredibly affordable.
Electric Scooters Ireland


Top Electric Scooters for 2021
There really is merely one question when it involves deciding whether to shop for an electrical scooter – 'why on earth not?'
These nippy little rides are fast becoming the transport of choice for commuters of all ages.
Tired of the morning tailback? A scooter will race past the morning traffic; you'll get on time – every time!
Fed up with the value of filling up or frustrated with yet one more fare hike? Scooters have very low operating costs. The batteries cost little or no to charge and therefore the only ongoing expenses are the occasional tyre change or brake pad replacement.
Peeved with parking? once you reach your destination – simply fold the scooter up and store it away!
A stylish well-priced scooter – great for the commute.
This is a nippy little scooter which will zip along at speeds of up to 25km/h.
It has a helpful LED display that shows battery capacity also as battery life. The battery will charge copy to full from empty in 3hrs.
It features a one-step folding system that mean you'll pack it away in seconds and store it under your desk, in your car or carry it along side you on conveyance .
It has a bright headlight and durable , air-filled rubber wheels that are great for shock absorbency. beat all, a really smooth ride!
Pure Air Pro
Weight: 16.5kg| Speed: 25km/h| Maximum range: 36km | Wheel Size: 10"
A powerful, robust scooter that goes and goes.
This is a tough wearing scooter that's designed to face up to real-world conditions.
It has achieved an IP65 water resistance rating and is quite capable of zipping through a rainy commute.
It features three different power settings which enable greater control over acceleration; providing a simple , safe ride.
It has a reinforced chassis and a non-slip deck allowing superb underfoot stability.
The air-filled tyres even enjoy the addition of puncture prevention fluid which greatly reduces the fear of a ride-ending puncture.
Pros
• Puncture prevention fluid
• Great within the wet
• Long 36km range.
WIKEE E9 PRO
Weight: 12.5kg| Speed: 25km/h| Maximum Range: 20-25km | Wheel Size: 8.5"
A lightweight foldable scooter with sturdy, solid tyres.
This scooter weighs in at a really light 12.5kg. it's made up of aircraft-grade aluminium which makes it very tough and hard-wearing.
It has solid, wear resistant front and rear tyres that are particularly effective at absorbing the bumps and shocks of the road. The comfort of the car without the fear of the traffic jam!
The high capacity battery charges to full in 4-5 hours and may travel up to 25km on one charge.
A robust yet agile little sco.
Not to mention that they're environmentally friendly, easy to use, quiet and great fun. Convinced? Great. Let's see which one might suit you:
electric scooters