Ethnic clothes are one of the most amazing outfits to wear. They come in different patterns and designs giving you an opportunity to look pretty. The demand and love of ethnic wear never decreases and every woman likes to wear some amazing patterns at festivals and special occasions. The outfit is detailed with different techniques and works. Some of them can be printed and have a beautiful lace on the neck , at the end of the sleeves and at the bottom of the kurti. Some attires can be detailed with pearls, diamonds, thread work or zardosi work  to give it a tremendous look. 
The most attractive part of this attire is its neck designs and collar. A perfect neckline gives the outfit an ideal look. There are infinite patterns of neck designs that make the outfit an overall perfect ethnic attire. If you go through the kurtis catalog online then you will come across a wide range of neck designs. You can be the one that you like from there. Many tailors get inspired from these designs and stitch the outfits in that pattern. 
Simple Round Neck:
One of the most admired and classical neck design is the round neck. This neck design can go with any pattern of kurti whether it be a straight side slit kurti or a flared anarkali kurti, every pattern is perfect for a round neck. If you don't like stylish necklines than this design can be a perfect pick for you. You will get this neck design in ready-made kurtis and if you are getting it stitched by your tailor then just ask him to give your outfit a round neck and it's ready. 
High neck with Stand Collar:
High necks are in high demand nowadays. They make you look classy and elegant. The kurtis found with these neck designs can be worn at college, office or also as a casual wear. A cotton kurti having some beautiful motifs printed on them with a high neck and two fourth sleeves can be a best daily wear outfit. It will provide you the utmost comfort level and will give you a stylish look. Get your look completed by matching a legging or straight pant with this kurti.
Classical V-neck: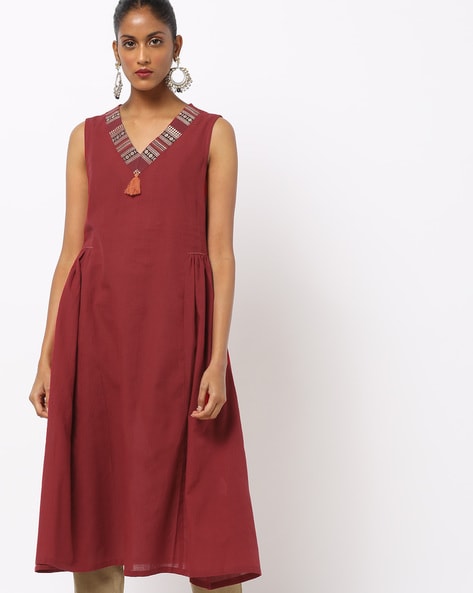 A simple and sober V-neck gives the kurti an elegant look. This design goes well with printed kurtis as the printed one looks perfect with simple and pretty necks. The neckline can be detailed with thin laces or some alluring borders to make it look more defined. A straight cut side slit kurti with a V-neck looks very gorgeous. The angrakha kurtis are the one that usually have this neckline. A front slit long kurti also makes a perfect combination with V-neck. 
A Beautiful Boat Neck:
A broad round neck that is higher than the simple neck gives an adoring look to the wearer. This design is also common in blouse and salwar suits. A long anarkali kurti with a simple boat neck gives the outfit a clean and alluring look. The design is more popular among youngsters due to its simple and attractive look. Wearing a necklace or chains on this dress can ruin the pattern of the neck so if you like to add some accessories with your outfit just go for a ring and beautiful earrings. 
Keyhole Neckline:
A beautiful kurti with keyholes in the front increases the beauty of the attire. The shape of the keyhole depends upon the pattern and design of kurti. They can be square, round, oval or triangle that gives the outfit a more dignified look. A round neck kurti having a keyhole in the front gives it a totally rich and attractive look. A flared anarkali kurti with a keyhole looks ravishing when you pair it with a legging to complete your ethnic look. High heels or platform sandals completes the overall look. If you want to customize your own kurtis get a wholesale dress material and stitch it and style it your way.
Sweetheart Neckline for Sweet Look:
The cool and classy neckline that has a tip making a heart shape goes well with a straight cut kurti. The neck is simple and easy to manage and wear. A pure white kurti with this neck having a different coloured piping and medium length sleeves makes a better combination with this neckline. Pairing this straight kurti with denim jeans or a palazzo pant gives a complete ethnic look to the wearer. An asymmetrical kurti with this neck design also looks awesome. 
Pin on Neck Design:
An interesting and stunning type of neckline is the pin on neck pattern. This one has a flip design at the front neck or have some asymmetrical designs and prints on the neck. The buttons allow you to make a high neck when you want to wear it and if you want a pin on the neck then open the button and pin it on the front. Some kurtis are already stitched in this pattern and others can be made in this pattern by opening the buttons. 
Square Neckline:
An adoring square neck design with some beautiful prints and patterns makes a cool and stylish ethnic wear. The neckline can be detailed with beads and diamonds or they can be decorated with some piping work or thread work to make the outfit more attractive. A choker necklace paired with this neckline looks really great. If you are wearing a heavily embroidered kurti with a square neck then a beautiful necklace will make you look more awesome. 
Kurtis with collar:
Kurtis having collars looks perfect. They are the best one to wear in meetings or on any other formal occasion. It is a high and closed neck design that is defined with some matching buttons. A kurti that is fitted to the upper body and flared from bottom looks perfect with a collared neck. These kurtis look awesome in bright and vibrant colours. Pairing them with denim jeans or leggings makes a pair of complete ethnic outfits. 
Some Designer and Unique Necks:
Not only simple and classical necks, but there are many more other fancy and unique neck designs that give kurtis a special look. This pleated round neck design is looking just fabulous. You will look like a fashionista and can gather a thousands of compliments by wearing this adoring kurti. Pairing beautiful earrings with this kurti and a simple makeup will give a drastic look. This one will be an awesome choice for the one who is a fashion freak.